When you need to see how your site performs in a Google SERP or improve the website traffic, you need to track your keywords. Both keyword tracking and using the best web hosting are important for SEO.

You can find potential keywords for your website using tools like Ahrefs and search console. The essential tracking is keyword ranking on Google for your or your competitors' sites. To perform this task quickly and accurately, you need to use a keyword ranking checker tool.
You need to pay for most tools to track and improve your keywords ranking, but we found the 5 best tools FREE for you.
So, let's dive in!
1. Sure Oak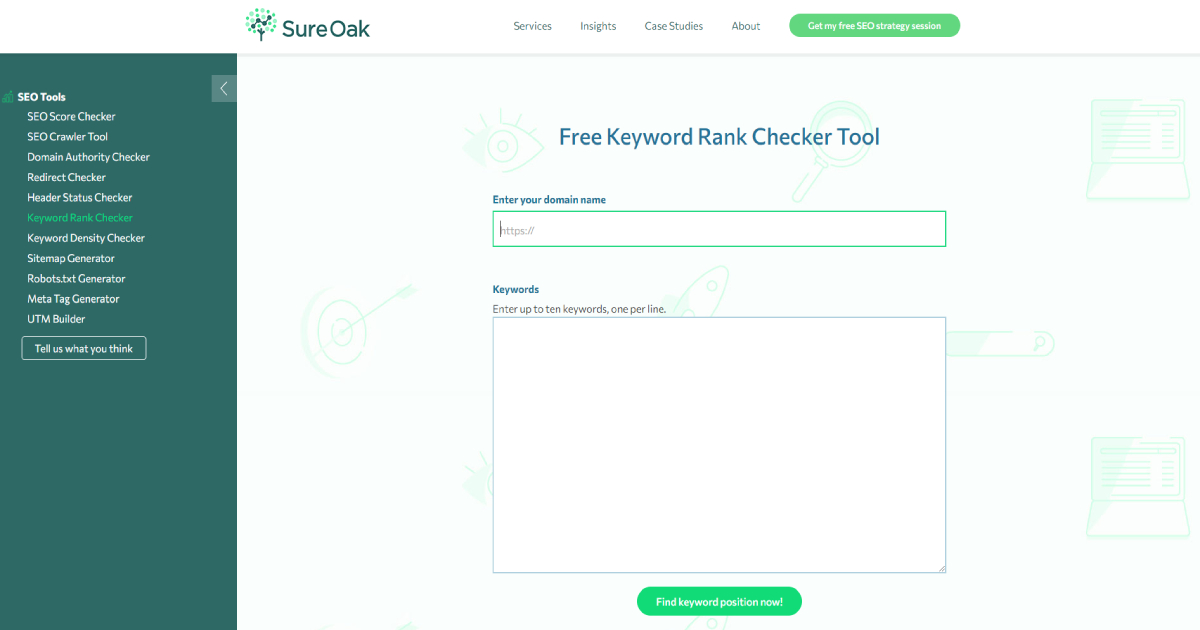 Sure Oak is a free rank checker tool for Google keyword ranking. This tool is easy to use and understand. First, you need to enter the domain name, and in the second field, enter up to ten keywords. Keywords need to be entered one per line.
You can enter your website name or any other website you need (client website, competitor website, etc.) in the domain name field.
When entering keywords, if you don't know the exact target keyword, you can enter up to three words or phrases that define the business or content of the searched website. With this, you set terms to check the current position of the wanted website.
2. Seobility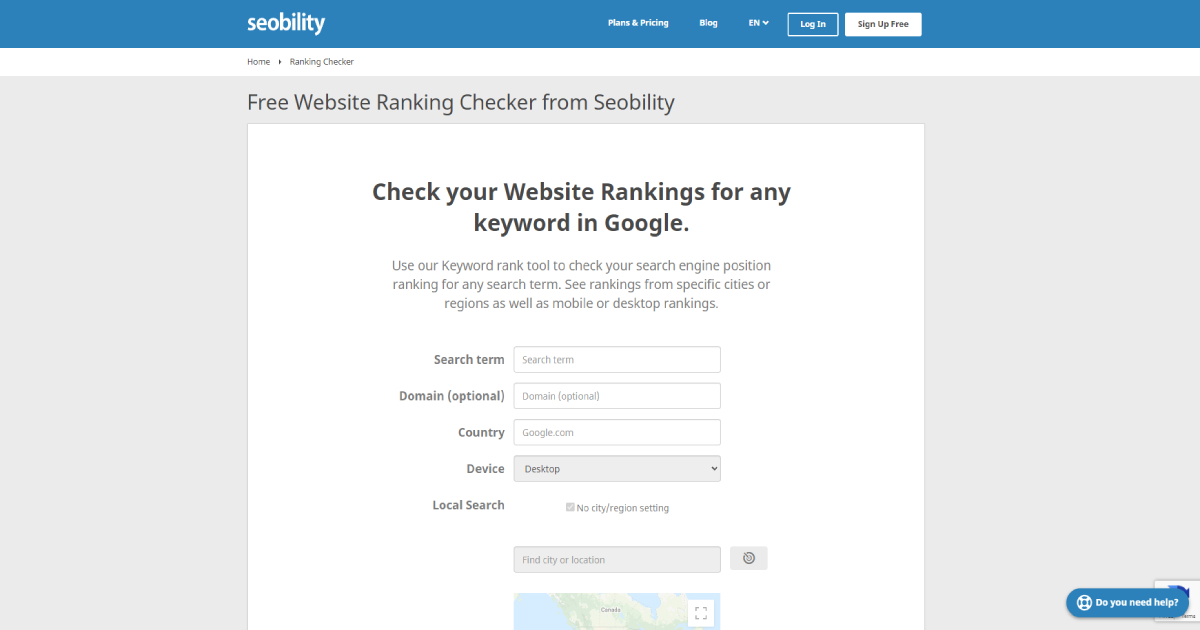 Seobility is a free ranking checker that will allow you to check the position of keywords in real-time. It is a very accurate Google rank checker that will give you the precise placement of your keywords. Moreover, Seobility will show you rankings for a city or region if you select to see local search results.
The Seobility ranking checker tool will display the top 100 searches with a SERP snippet preview for every result. In a "Search term" field, enter keyword, and domain field is optional. You can select either mobile or desktop devices in the application to see the ranking for each device.
When you use the Seobility ranking checker, you will get neutral results of your Google ranking and SERP data.
3. Small SEO Tools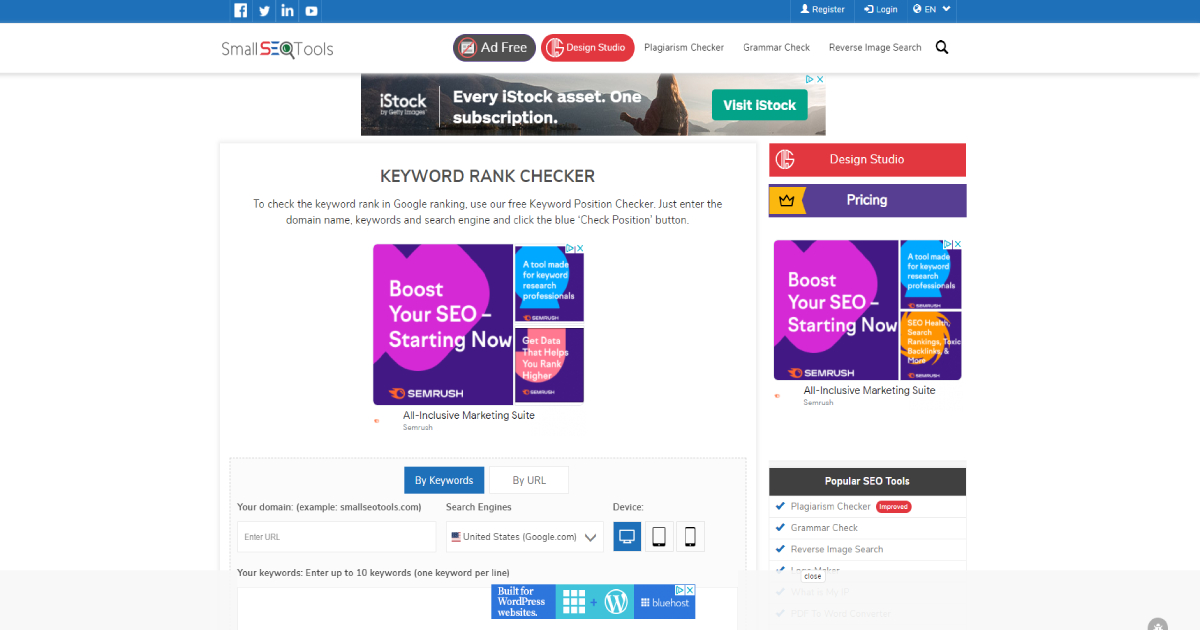 Small SEO Tools is a free tool that checks your position in the search engine (Google). The Keyword Rank Checker option will detect the position for your keyword compared with all websites that have the same keyword or string of keywords.
Enter your domain name or URL, and select the device you what to see results for. Then enter one keyword per line (you can enter up to ten keywords in one search). Then all you need to do is click the "Check Position" button, and results will be displayed.
4. Link-Assistant.Com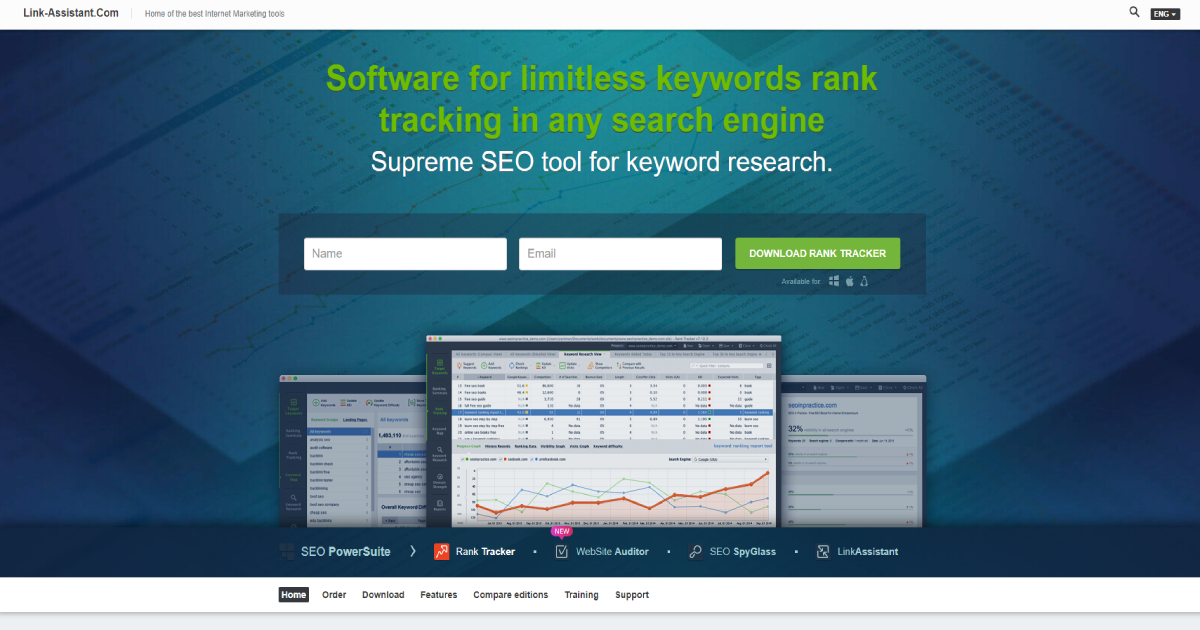 Link-Assistant.Com offers a Rank Tracker tool, free software for keyword rank tracking that you need to download to your device to use it. Rank Tracker as a rank tracker tool will allow you to check the position in Google SERP, and you can choose to do it in local or global position search. This tool does not limit search results per number; it will scan the top 10, 100, or 1.000 search results.
You will be able to track keywords ranking weekly or daily. And this tool includes tracking your competitors' keywords ranking too.
Rank Tracker software has the feature of geo-specific rankings, so you can track keyword rankings by selecting a location you chose, and it doesn't need to be your location. Rank Tracker checker offers a free copy you can download, and it is available in versions for Windows, Mac OS, or Linux.
5. Whatsmyserp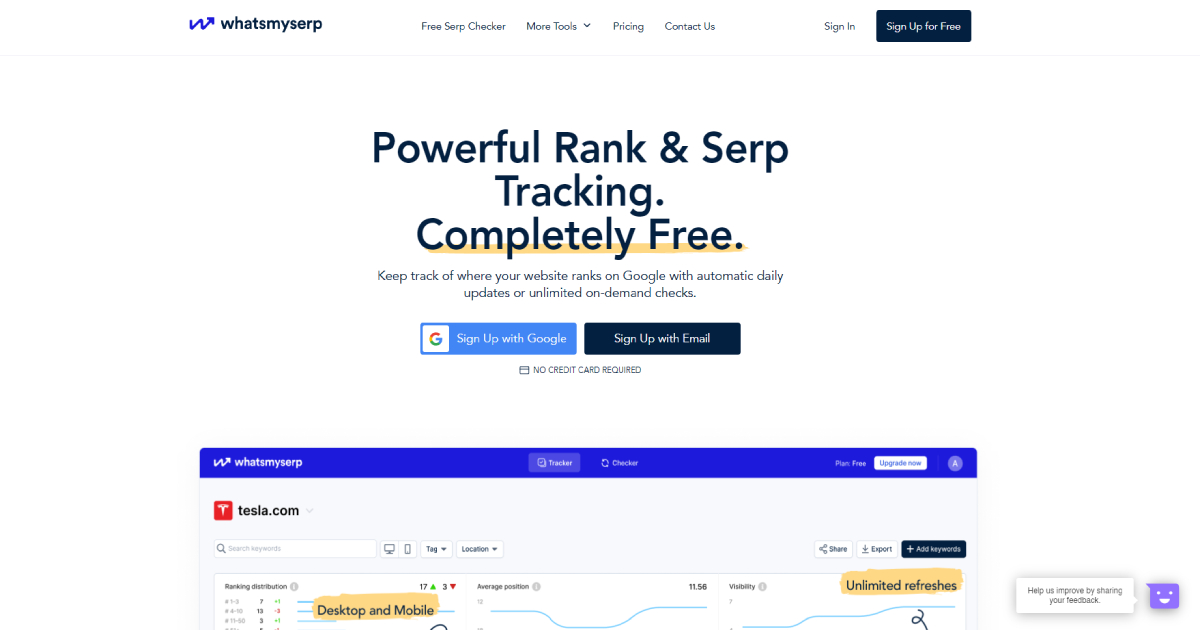 Whatsmyserp is a free keyword tracking tool. This keyword tracker tool has automatic daily updates, and you will have accurate daily results of your keyword positions.
The outstanding feature of this tool is that you can see the history of your Google ranking by selecting a customary period of 30 days, 1 year, and "All time."
With a free version, you can choose a device you like to see the ranking distribution (Desktop or Mobile). It has an "Unlimited refreshes" option, "Rank history," and "Local tracking." A free account has PDF reports, and you can sign in using your Google account or email.
Conclusion
As mentioned, these tools will help you search your keywords to see how your keywords will rank on Google. Also, which of them do you need to improve or change to be more visible in Google SERP.
With these five free tools, you can see how this complete process is done and how, by making some changes, you improve your Google search ranking. So pick any of them, try all, and start making positive changes.